eVTOL infrastructure firm Skyports recently announced its acquisition of a central London heliport, formally known as Falcon Heliport.
The move is a clear step towards the physical rollout of eVTOLs in the UK and marks a crucial shift in the country's infrastructure.
As we discussed in a post last year, eVTOLs may face some challenges establishing their presence in cities. Will this site address those challenges and, if so, how?
Skyports London Heliport
Currently known as Skyports London Heliport, the location is one of only two operational public heliports in the city of London.
While it currently has facilities to support certain types of helicopters, these will be removed by the mid-2020s in favour of building a vertiport with specific eVTOL infrastructure.
Little else has been announced about the site, other than Skyports is using it as a test site for some of its vertiport systems.
It will not be the company's (or Europe's) first vertiport, though, as that will be in Paris.
Skyports plans to build a vertiport there in time for the 2024 Paris Olympics.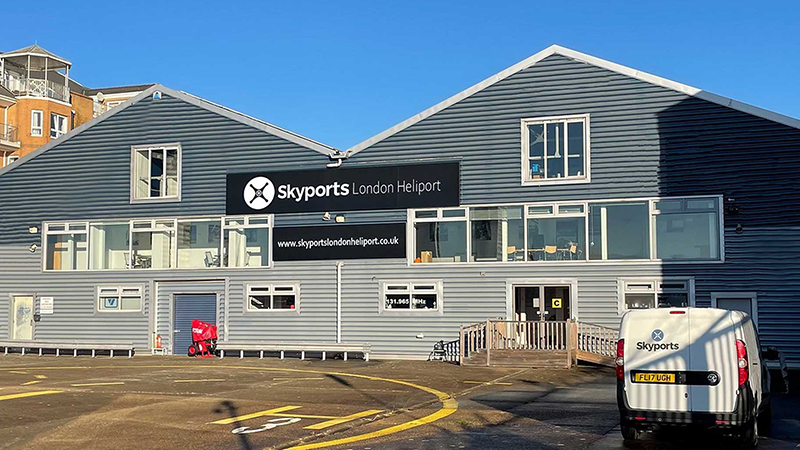 Understanding the Vertiport's Location
The heliport's location is about as prime as it can get in London.
Located on the outskirts of Canary Wharf, one of London's most affluent districts, it can reach any of London's airports in 20 minutes or less.
Also, it will be able to reach Bristol in less than 50 minutes.
Arguably, Canary Wharf will be the best testing ground for eVTOLs and their infrastructure.
As the city's financial district, it sees the second-highest number of commuters in a year. In 2019, it was more than 47 million.
From this perspective, there are plenty of potential eVTOL users.
Also, while a generalisation, financial workers are generally forward-thinking enough to embrace disruptive technology of this nature.
If it offers a faster way to get to work without the congestion of a busy tube station, the vertiport will likely become very popular, very quickly.
One major limitation of the current heliport is the city's Control Zones.
These restrict the size and type of helicopters that can use the facility due to it being surrounded by residential areas.
However, these rules will likely not apply to eVTOLs, as they are quieter and better suited to flying around residential areas.
As discussed in our previous post, though, we do not know this for certain.
It will be difficult to predict air traffic regulations for eVTOLs because they do not align with any existing laws.
The rapid rise of drone technology has highlighted how outdated most air traffic laws are, and the introduction of eVTOLs will require a major rethink for urban applications.
Rollout of UK eVTOLs
The Skyport Heliport is currently a practical experiment into the applicability of eVTOL infrastructure.
Its location is ideal from both a convenience and regulatory angle, as it will provide data on how eVTOLs function close to residential areas.
Hopefully, it will be well received and will set an appropriate tone for the rollout of eVTOL infrastructure across the country.
The UK is perhaps one of the best testing grounds for this, after all.
Due to its size and the proximity of many of its major hubs, the quick and easy nature of eVTOL travel should be very appealing.