Saudi Arabia's NEOM Project may have only been announced in 2017, but work is well underway to have it completed by 2030. Its investment in sustainable transport and living could prove to be a massive help for the wider sustainability market across the world.
To understand why this is the case, we must look at the project's goals and the kinds of companies and industries it's investing in.
What is the NEOM Project?
NEOM is a $500 billion sustainable living project being built on the coast of the Red Sea in Saudi Arabia. Spread across 26,500 square km, it'll include smart cities, industrial zones, ports, entertainment zones, and tourist centres. Importantly, too, the project will include several airports – both domestic and international – along with other green public transport.
The project's ultimate goal is to diversify Saudi Arabia's economy while also adding a projected $48 billion to its GDP. But the NEOM cities will also serve as experiments in cutting-edge sustainable living technology.
Specifically, they will use 100% renewable energy and will preserve 95% of the surrounding natural environment to highlight our relationship with nature. NEOM cities will be supplied with water through modern desalinisation plants, which will result in minimal water loss and major advances in this technology field.
Proper construction will begin in the first quarter of 2023, although there is already an airport open in the area for investors and stakeholders. The current timeline is that the site will have the capacity for up to 2 million people by 2030, with full capacity (9 million) available by 2045.
Investment in Green Transport
Although the project will use green transport, it's primarily being designed to be walkable. High-speed transport networks will make all areas of the NEOM site reachable in 20 minutes, and there will be high-priority walking and cycling lanes. But, perhaps most importantly, there will be access to electric personal mobility.
The NEOM Project recently invested more than $170 million in Volocopter. The investment will fund the development of Volocopter's urban EVTOL, which NEOM will use to connect its inter-city areas. Importantly, too, NEOM cities will be built around EVTOLs, meaning it's the first time that their inclusion has been factored into an urban design project.
Although NEOM cities won't be ready by the time Volocopter launches its first commercial EVTOL project, it's fair to assume that having potential free reign over how its product is integrated into this project will have a major impact on its rollout elsewhere in the world.
There isn't much information on how NEOM and Volocopter plan to set up infrastructure, but NEOM's press announcement states it plans to localise industry innovation. In theory, this could mean a Volocopter team will be on-site during construction to test out EVTOL integration.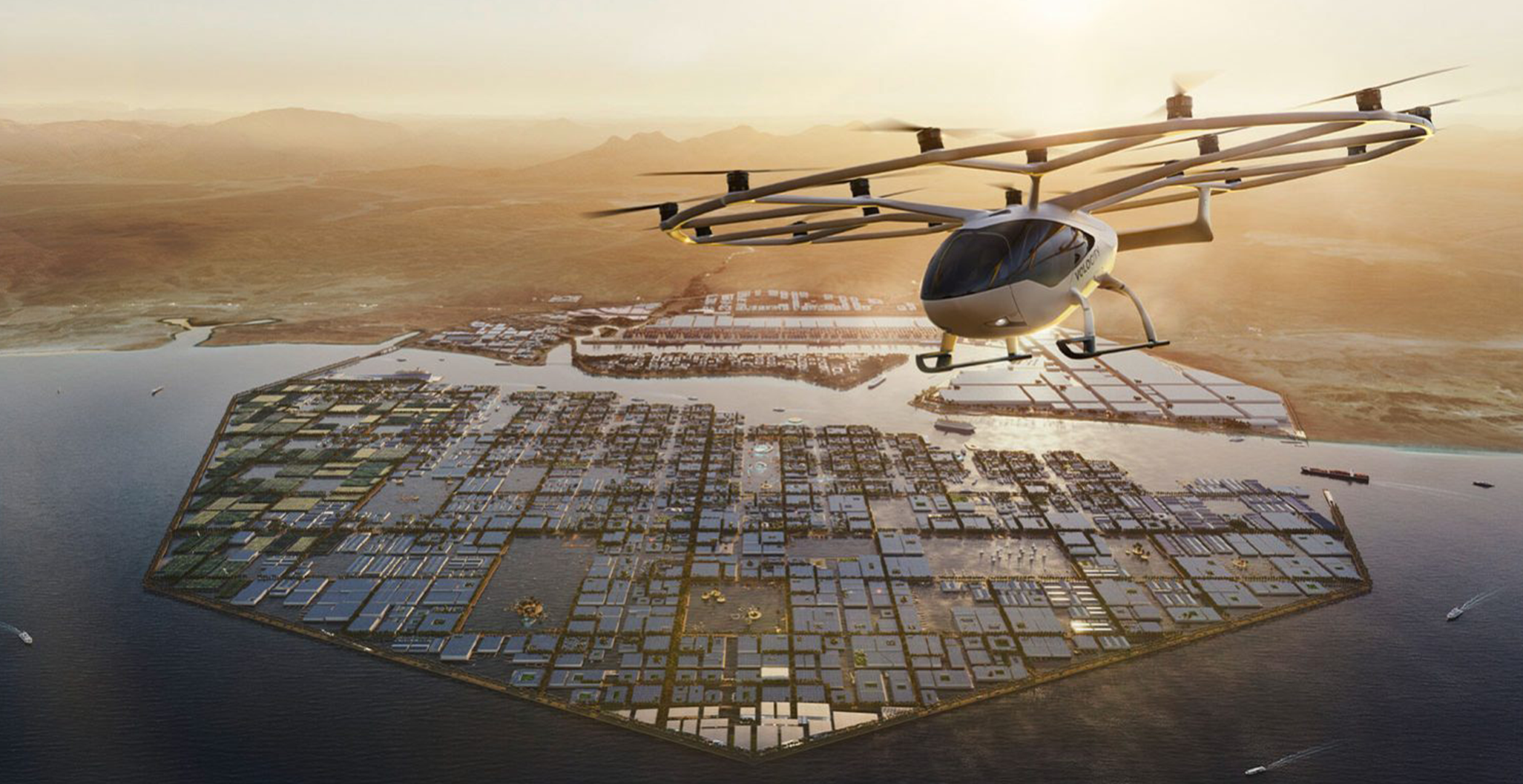 What Does This Mean for Aerospace?
NEOM cities promise to be a big step for sustainable living, if only because they will provide a site to test out emerging and disruptive technology. As for the project's investment in Volocopter, this is nothing but a positive development.
After all, this is a significant amount of money, and building an EVTOL network from the ground up could also teach us about legislation and regulation. It'll certainly be interesting to watch this project unfold in the coming years.