Emirates has displayed entirely new interiors for its Boeing 777 fleet, including luxury Private Suites for First Class passengers.
With sleek design features inspired by the Mercedes S-Class, the private cabins feature sliding doors for privacy, integrated storage areas and up to 40 square feet of space. These private suites are situated in a 1-1-1 configuration where even suites situated in the middle of the plane will have a view thanks to virtual windows that display a real-time feed from external cameras.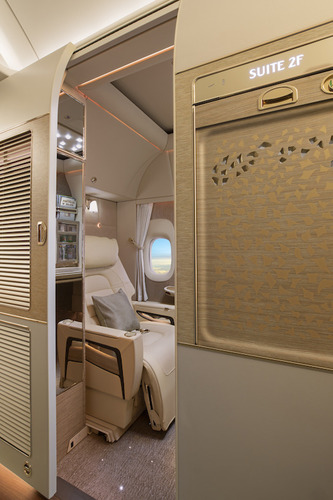 In addition, the soft-leather seat reclines into a fully flat bed with a so-called "zero-gravity" mode inspired by NASA that gives a feeling of relaxation and weightlessness. Other high-end amenities include a minibar, an inflight entertainment system and a wireless mode to adjust the seating.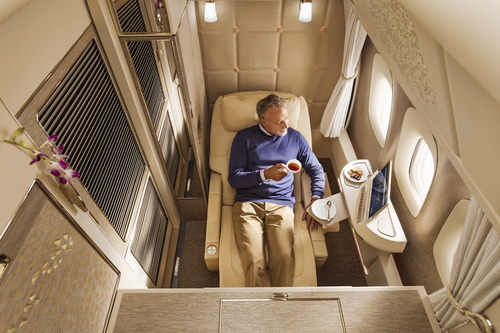 Sir Tim Clark, the President of Emirates Airline commented:
"Emirates pioneered the First Class private suite concept back in 2003, and today it's the industry benchmark when it comes to first class travel. Over the years we have continually improved on our private suites, adding thoughtful refinements and features. We are very excited about our new fully-enclosed suite which is a real game-changer in terms of privacy, comfort, and thoughtful luxury. This is the first time an Emirates product has been so influenced by another luxury brand, but it is a natural fit as both Emirates and Mercedes-Benz have the same unwavering commitment to fine detail, uncompromising quality, and a drive to push the boundaries."
The airline also announced upgrades to business and economy class with advanced in-flight entertainment and redesigned seats, again inspired by Mercedes.