In the weeks after we talked about how in-flight comfort has evolved over the years, we've been keeping an eye out for what may be coming next for aircraft. Airlines are constantly trying to strike the perfect balance of comfort, weight and space.
It's an unenviable and thankless task which sometimes results in customer dissatisfaction. From the economy class passengers at any rate.
Airlines are in a difficult position. The market forces are driving costs up while customer expectations are pushing fares down. All the while expecting the aircraft to be the lap of luxury, with a suite of entertainment and reliable WIFI.
And not to be too hot, too cold or force them to sit too close to another human being unless related to them in some way. Maybe not even then.
This presents manufacturers and airlines with no shortage of challenges to make flights memorable for all the right reasons.
On top of striving to make the aircraft more efficient to meet ever-tightening emission standards.
Seating and Comfort
One of the biggest challenges airlines and manufacturers face is providing economy passengers with a pleasant flight. It's a fight that's almost impossible to win with expectations and costs constantly on an upwards curve.
Every now and then airlines or manufacturers float ideas like all standing flights or seats that are more akin to a suspended harness, all to maximise capacity. Which addresses one issue at the expense of exacerbating the other.
To make matters worse for economy passengers there is no shortage of innovations that make the first class more like a luxury hotel room or transform the business class into a contemporary cocoon of comfort and technology.
The contrasts are awkward at best, insulting at worst.
Economy class – in essence – hasn't changed much beyond screens in the back of seats and the introduction of economy plus. However, new ideas are coming to the fore that could improve comfort.
Companies like Expliseat are looking at super lightweight, super-strong materials like titanium in order to save space on planes.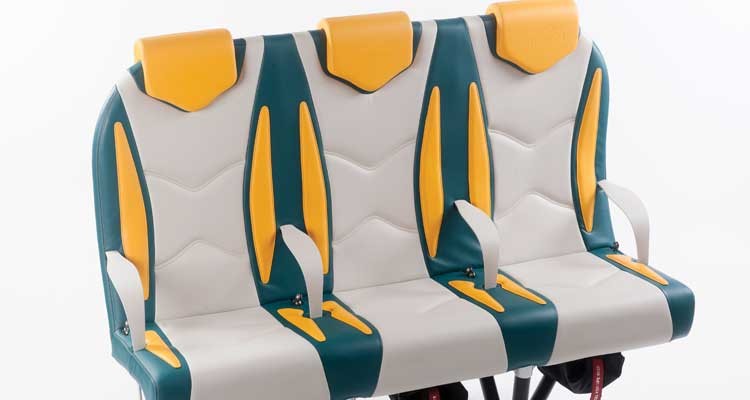 Making the seats lighter saves weight. As much as 4kg per passenger. On the average A320, that's a saving of 744kg, roughly half the weight of the average car. Or 32 economy class suitcases.
Lightness improves fuel economy, which is good news for the airline. Or it's an opportunity to carry more cargo.
Light chairs are also narrower which can give passengers more legroom at the knee, improving comfort. Although the space saved may just result in extra rows being added into maximise capacity.
UK based LAYER have developed a prototype for Airbus that uses sensors that allow passengers to control the temperature, tension and even the position of the seat – depending what is comfortable for you.
Controlled via a downloadable app, the chair can even detect when you're dehydrated or when it's time to get up and stretch your legs and notify you.
Further up the cabin, Safran is working on the Essential Business-class concept that doesn't articulate. Instead of heavy mechanical components, the seat uses cushion structures.
They claim it reduces weight by 25% and increases space by 20% due to the absence of kinematic systems.

Technology
Although technology is always leaping forward, when flying with airlines it can sometimes be too subtle to see. Recent innovations in consumer technology mean that manufacturers can bring cabin interiors screaming into the here and now.
Especially from the perspective of inflight entertainment.
Breakthroughs in screen technology has resulted in ultra-thin displays. This allows seatback screens to be significantly bigger without adding weight. Or generating excess heat which could pose a problem.
Edge to edge screens will significantly improve image quality and user experience as well as offer a host of other features or expand existing offerings such as a broader range of games.
Although with the rollout of WIFI on flights, seatback screens may become a thing of the past. The intention for most airlines is to introduce paid-for content that can be streamed to the passenger's own device.
So instead of only a handful of movies, passengers can choose from an archive of hundreds. Although some may be free, others will have a small fee to rent for the duration of the flight.
Equally, WIFI will allow passengers to access other streaming services as well as access social media and other web-based services.
WIFI also allows airlines to offer apps to their customers that can be used to purchase food, drink and Duty-Free without the need or the hassle of pushing a narrow rattling trolley up and down the aisle. Customers can simply order what they want and the cabin crew bring it to them a few moments later.
However, the most surprising technology that could be found in cabins is virtual reality headsets.
Considering the highly interactive nature of the technology the application may be limited. Immersive movies could be an incredible experience to provide passengers with on long flights. Although it could prove disruptive for those nearby.
There's no denying the appeal and being able to provide headsets and a catalogue of content to passengers. The novelty alone will provide the airlines with an almost immediate return on investment. Long term – without the content to back it up – it'll likely fizzle out.
Interiors
Entertainment isn't the only thing likely to take a big leap forward. New air filtration systems are being developed that will improve onboard air quality while suppressing airborne and surface viruses and bacteria.
Although the technology Is currently targeted at the first and business class customers, as the cost of the technology decreases we can expect to see this technology deployed across the entire plane.
The benefit to the cabin crew is significant as it will also filter allergens and pollutants, improving the working environment.

In line with the wellness and holistic approach to air travel, one of the big ideas is to create a social zone like the kind seen with high-end first-class areas. Intended for long haul flights, the idea is to have an area the passengers can go to while stretching their legs.
Areas to chat, a counter to buy food and drinks from and sofas to sit and chat.
The only issue we foresee is that the areas won't be big enough which will either result in an awkward rotation or many passengers not bothering because they don't want to be crowded or rushed.
Airlines will have to weigh up the value of operating these 'wellness' spaces versus the number of seats that they may have to sacrifice.
However, if planes are taking off with empty seats regardless, then the areas may well provide greater value and residual sales from – essentially – wasted space.
One solution may be the award-winning design devised in collaboration with Adient Aerospace. The concept devised by Sahngseok Lee interweaves the classes with an innovative two-layer approach.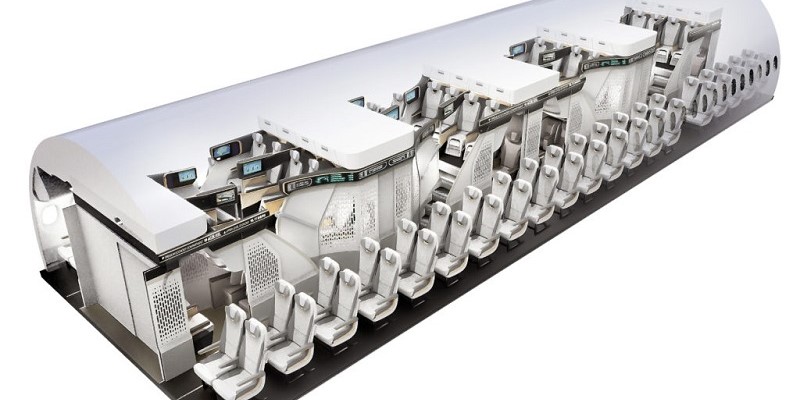 This maximises space while still providing business and first-class passengers with the level of privacy they are used to.
It's a brave design and anyone's guess if it will become a reality. However, these kinds of 'stacked' designs are becoming increasingly common and may hold the answer to the airlines' challenges of keeping costs down and flights full.
The next few years will see some big changes, starting with the wide adoption of WIFI and the associated services. From there we expect other inflight entertainment and seats to be upgraded in line with growing expectations.
The speed of adoption will be dictated by demand and wider market forces. But the fact that manufacturers are developing these ideas suggests that the market is there.
The challenge for the airline is knowing which innovations will make the biggest impact for the greatest return.
We work is some of the best and the brightest in the aerospace industry, helping them find top engineering and technical talent. If you're looking for a new role register your details with us today.
Or if you'd like support filling a requirement, contact us and we'd be happy to help.