Various studies on homes of the future look at smart gadgets, flexible construction, and intelligent architecture.
While these are valid questions, few consider how homes will evolve alongside future transportation methods, such as eVTOLs.
So, how will eVTOLs fit into the homes of the future, and will we see their incorporation influence architecture?
The Homes of 2050
In 2018, the UK National House Building Council's research arm published a report – Futurology: The New Home in 2050.
It is a document listing potential aspects of future homes, ranging from energy production and storage to the presence of smart tech.
Despite it only being four years old, few of its ideas seem particularly futuristic.
For the purpose of this article, two points stand out.
The first is the idea that every home will include a charging station for electric vehicles, which is a given considering we will have phased out petrol engines by then.
The second is energy storage and production.
The report believes homes will include solar panels and heat pumps as standard, along with appropriate battery storage to keep the building powered.
While its models typically depict suburban living, most of its arguments apply to urban living, too.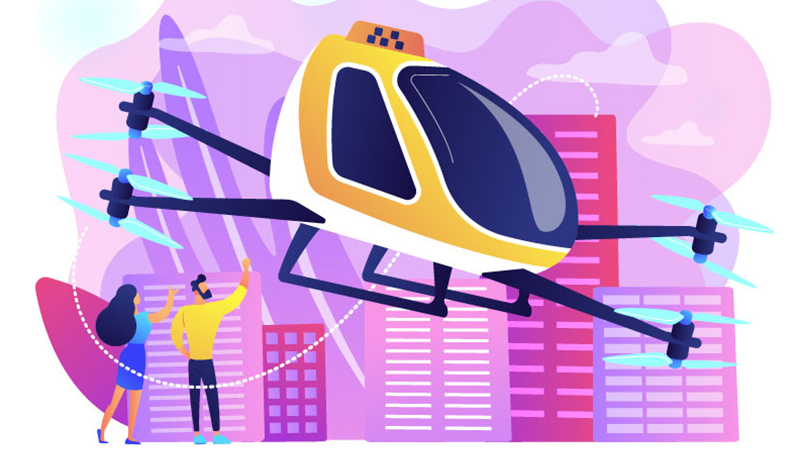 Building Around eVTOLs
How will eVTOLs fit into these future housing plans?
Surprisingly well based on existing aircraft designs.
For example, homes will already be equipped with charging stations, meaning electric vehicles of any kind will easily incorporate into energy plans.
The issue of airports might take a bit more flexibility, but the potential is there.
For suburban and rural homes, eVTOLs could fit into garages or have some kind of underground storage.
This would work well for personal aircraft, such as those that might replace a car for commuting.
One concept that could take off in this area is Tetra's home build kit plane.
It could be customised to the user's storage space, perhaps including folding elements and other ways to make it suitable for personal use.
In urban areas, we will see some combination of pop-up airports, permanent vertiports, and helipads on the top of buildings. In short, any flat accessible space could become an eVTOL airport.
Some vertiport designs, such as Hyundai's, are modular and have retractable landing platforms, making them ideal for compact urban spaces.
Finally, there is autonomy. It will be a major aspect of future home designs, whether it is autonomous lighting, security, convenience, or something more complex.
There is potential to link autonomous eVTOLs to autonomous homes to improve quality of life.
This could come in numerous different forms.
For example, triggering a morning routine could call an eVTOL taxi at a certain time or setting a home commute could begin an evening routine of preparing dinner.
Despite what we already know about autonomous technology, its future potential is possibly beyond our understanding.
Planning for Disruptive Technology
If eVTOLs end up being as disruptive as we expect, their inclusion in future homes will be a given.
However, what this will look like is unclear, at least until we better understand their potential.
eVTOLs and airports will likely be flexible in their design based on their purpose and location.
Whatever the future looks like, it will be fascinating to watch it happen.