We recently ran a poll on LinkedIn to gauge current industry opinions about the viability of contract work. 
Due to IR35 changes and the uncertainty created by the pandemic, the prospect of permanent engineering roles is more attractive.
However, as the poll shows, over 70 per cent of respondents still see contract work in aerospace and defence engineering as a viable option. 
Let us pick apart the differences to understand why this is the case.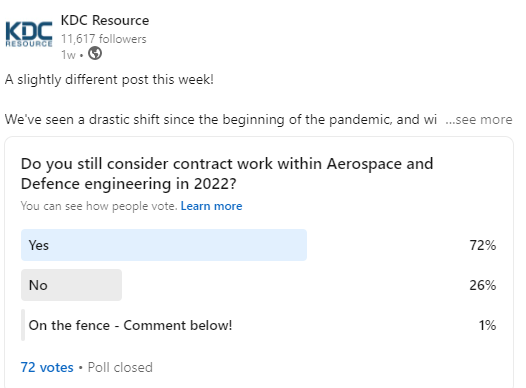 The Benefits of Contract Work vs Permanent Work
The main difference between contract and permanent work is evident: permanent offers stability, whereas contract does not. 
However, contract work offers myriad benefits, particularly for those still looking for their career niche.
Contract work is a great way to gain experience across different areas of engineering, which can be helpful when looking for your future specialisation. 
Similarly, it gives candidates the chance to learn different company disciplines and use software skills and programs.
While some may disagree with the jack-of-all-trades approach, it has its benefits.
For example, working with different companies means more networking opportunities. 
These might be with colleagues from different companies or future or former directors.
Either way, knowing and interacting with more people in the industry can lead to more significant opportunities in the future.
Finally, there is the ability to manage your own time and take on as much work as you want. 
This flexibility is arguably one of the main draws to contract work but stands in stark opposition to the main benefits of permanent employment, mainly security and stability.
Along with salaries, many companies also offer benefits to permanent staff. 
These could be accrued leave, discounts on services, or something potentially more abstract like progression opportunities. 
Regardless, it all comes down to a more stable employment position.
Similarly, permanent work gives people the chance to develop within a position, refining their skills in relation to their current niche. 
Providing it is a niche they are interested in; the support of colleagues and managers can be a good help.
Finally, there is the obvious point of ownership on projects, which can have significant benefits in the future.
Which is Most Suitable?
There is no clear answer as to which is best, as it comes down to the type of work you want to do and the opportunities currently available. 
It may be worth considering a switch depending on where you are in your career. 
For example, those new to engineering may find contract work or internships beneficial, but so might those further on in their career.
Either way, it is worth starting a conversation with your recruiter or colleagues.
Understanding your skills and goals and the current industry opportunities will help you make the most appropriate decision.
We would love to hear from you about the current contract work opportunities vs permanent work. 
And, of course, if you are considering a switch or looking for a new role, KDC is here to help. 
We can support you in making the jump, finding new opportunities, or even better understanding your goals. 
Reach out to one of our recruiters if you would like more information.